This talk is Jointly Sponsored by the
Department of Electrical and Computer Engineering and the Department of Computer Science.
In-Depth Crypto Attacks
Karsten Nohl
Founder and Director of Research, Security Research Labs (Berlin)
University of Virginia Computer Engineering PhD (2009)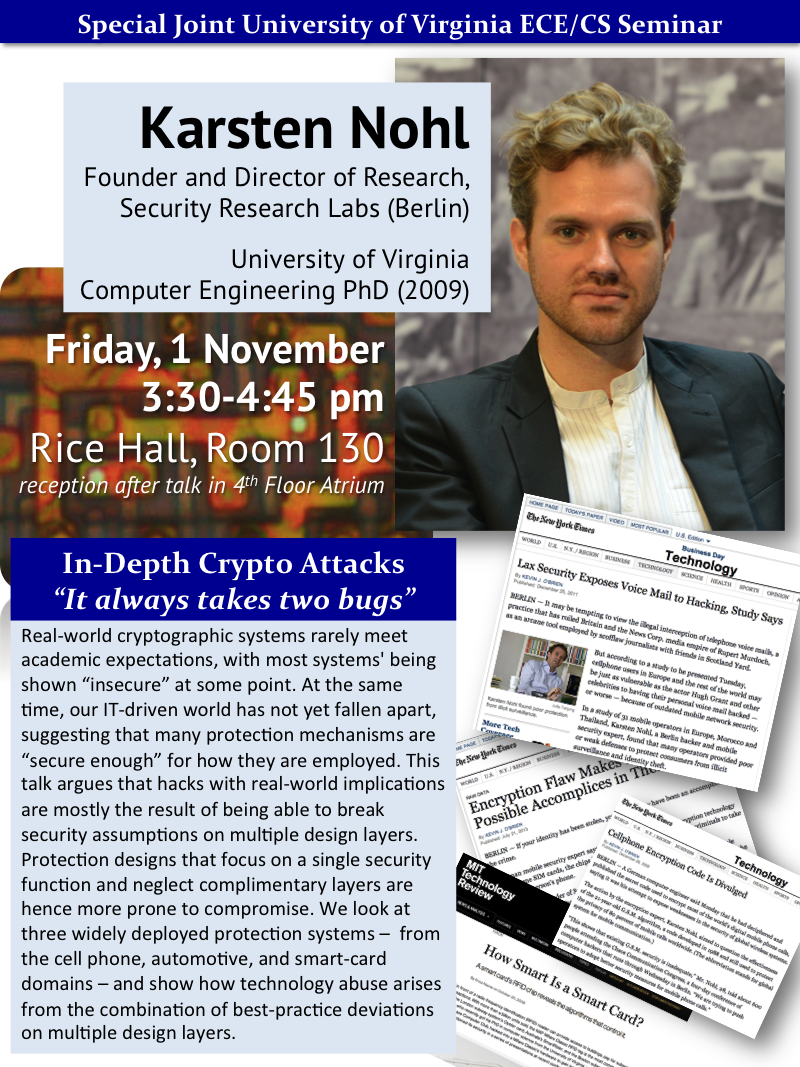 Real-world cryptographic systems rarely meet academic expectations, with most systems' being shown "insecure" at some point. At the same time, our IT-driven world has not yet fallen apart, suggesting that many protection mechanisms are "secure enough" for how they are employed. This talk argues that hacks with real-world implications are mostly the result of being able to break security assumptions on multiple design layers. Protection designs that focus on a single security function and neglect complimentary layers are hence more prone to compromise. We look at three widely deployed protection systems — from the cell phone, automotive, and smart-card domains — and show how technology abuse arises from the combination of best-practice deviations on multiple design layers.
---
UVa Today News Article: Renowned 'White Hat Hacker' to Speak on Real-World Security Holes, Brevy Cannon, 29 October 2013.

University of Virginia graduate Karsten Nohl, one of the world's most famous "white hat computer hackers," will speak Friday at 3:30 p.m. in Rice Hall, room 130, about lessons learned from the security holes that he and fellow researchers have uncovered in mobile phones, wireless car keys and other technology used by billions of people everyday.
Nohl first made international headlines in 2008, while still a computer engineering doctoral student at U.Va., for research that exposed vulnerabilities in the world's most popular smartcard, used by millions of people to pay fares on several major mass-transit systems around the world, including the London Underground and the Boston subway.
...
Since graduating from U.Va. in August 2008, Nohl has gone on to discover and demonstrate two key security vulnerabilities in mobile phones - encryption flaws in both the GSM protocol that most cell phones use to communicate with cell towers, and in SIM cards, the tiny "subscriber identity module" chip in every phone that identifies and authenticates the phone.
Both discoveries generated worldwide media coverage.